David Gilbert
Dirk Röder
Mastering Business Requirements
Insights for 13 crucial challenges
##From the community for the community "Question existing work methods and solutions and rethink them at the beginning of projects — it will never be so cost-effective to do so again." That is David Gilbert and Dirk Röder's golden rule for establishing a constructive interplay between the business perspective and the user and technology perspective. They have outlined their experience, gained as internal digital partner of Deutsche Bahn, in a set of guidelines. We are happy that Deutsche Bahn have allowed us to share these guidelines to practical RE with our readers - From the community for the community. Stefan Sturm, Editor in Chief
Mastering Business Requirements
Insights for 13 crucial challenges
The transition from problem to solution always gives rise to requirements. In a professional context and at an early stage these usually are business requirements which are derived from strategies and processes. From the outset these business requirements should constructively be put into relation with user and technology requirements.
In a large corporation such as Deutsche Bahn the concerns surrounding business requirements are substantial and thus require particular attention because, all too frequently, it's insufficient or misunderstood requirements that cause distress in a project.
The context in which business requirements develop in large companies is mostly affected by the following aspects:
a great number of business units which have complex business relationships among each other
business units that are large enough to exhibit a high level of division of labour and distributed responsibilities
a strict regional division and a high number of "mobile" employees
a broad distribution of requirements and budgets that result in collaboration being exacerbated by a fierce competition for IT budgets furthered by internal regulations determined by the group management.
Besides operational knowledge and methodical expertise, the right mindset is required to master business requirements in an environment as described above. Promoting such a mindset we as DB Systel, the internal IT partner of Deutsche Bahn, issued a publication to address 13 crucial challenges providing a golden rule to each one of them.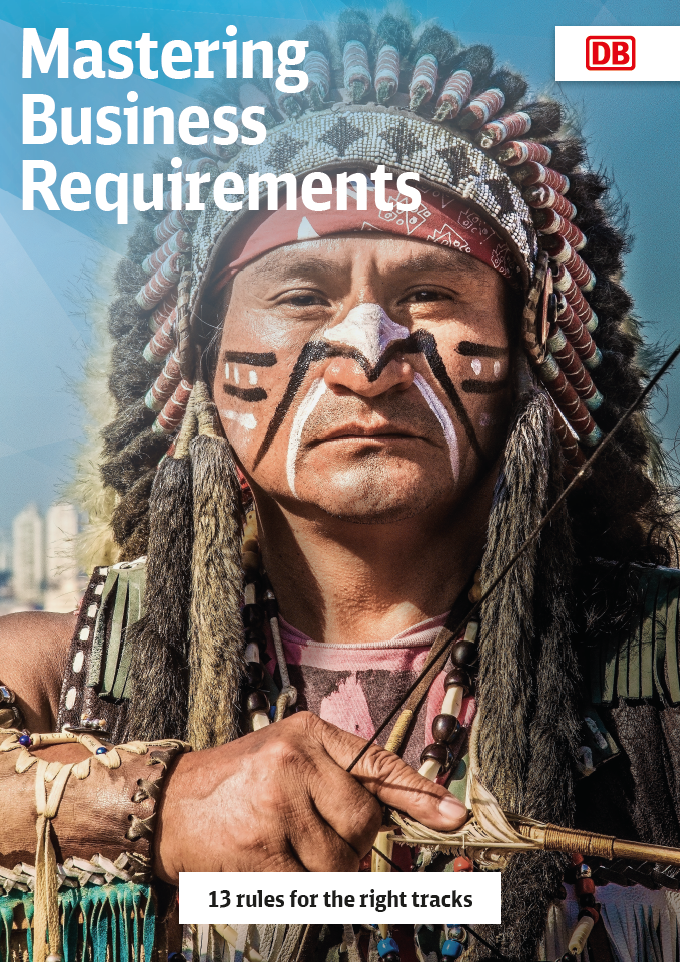 In a problem-based approach we developed problem hypotheses based on interviews, specialist literature and our own consulting experiences and discussed these with corporate units of Deutsche Bahn.
Theoretical points of reference for us were:
Horst Rittel / Melvin Webber: Dilemmas in a General Theory of Planning
Jamshid Gharajedaghi: Systems Thinking – Managing Chaos and Complexity
Chris Rupp: Requirements-Engineering und -management
Business Analysis Body of Knowledge V3
Particularly the analysis of the idea of 'wicked problems' by Horst Rittel and Melvin Webber was truly helpful to us. In as early as 1973 the two of them framed ten special characteristics of social and cultural difficulties which can be conveniently transferred to actual sociotechnical IT challenges. Because whenever problems cannot be defined conclusively and whenever there are several stakeholder's perspectives on an issue a merely scientific engineering approach is not expedient.
Besides helping us articulating our golden rules, our analysis led us to the conclusion that the requirements engineering process requires a stronger competence in bridging the gap between technologically excellent and socially successful solutions than can be currently observed. It is for this reason that we from now on support IREB's Digital Design Initiative to further develop this competence from an integrated business, people and technology perspective.
David Gilbert
David Gilbert has worked in various operational and strategic Digital Design roles since 2007. Previously, he completed his studies as Diploma Mediamanager at the Wiesbaden University of Applied Sciences.
Until 2015, he worked for various design agencies such as Scholz & Volkmer, Pixelpark, Mutabor or SinnerSchrader. The projects he has worked in have received over 25 international and national design awards. - Since 2015 he is working in the IT department of the Deutsche Bahn Group, where he holds the role of Chief Architect User Experience at the intersection of classic system-oriented and user-oriented software conception.
From 2011 - 2016, he was a lecturer in UX Design at the RheinMain University of Applied Sciences, and has published various contributions to the topics of strategic UX design and digital design.
In addition to his engagement within the "Digital Design" working group, he is chairing the Bitkom "Digital Design" working group as well as he is a member of the "Designforum Digital Experience" of the German Design Council.
Dirk Röder
Dirk Röder has been working in software engineering since 1992. At DB Systel GmbH, he has been chief software architect since 2007, taking care of the employees involved in IT conception.
Since 2010, he has played a leading role in setting up and further developing the internal training program for the conceptual design of software. He has been driving the integration of UX design and classic software engineering since 2015. He is currently working on the conversion of concept work to agile implementation and new production models such as DevOps.